Okay, so you can't see her adorable little face. But Mariah Carey teased fans on Twitter Sunday with a fabulous snapshot of her baby daughter Monroe.
"This is baby Monroe saying 'no pictures dahhhhling' at 7+1/2 weeks," Carey wrote beneath a photo of her little girl's hand, raised as if she were trying to shield her glamorous self from a pack of would-be paparazzi. "Oh dear."
Pretty funny: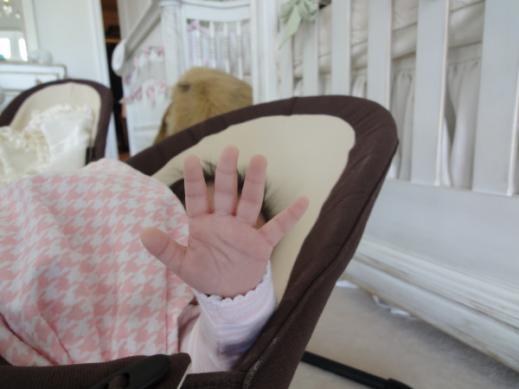 Perhaps Monroe's dad, Nick Cannon, wasn't kidding when he described Monroe and her twin brother Moroccan, born on their anniversary in April.
"My son is laid back like me," he said. "My daughter's a diva like her mom! When my daughter wants something, she'll let you know immediately."
Hey, it's hard to blame the little gal. Sometimes when the celebrity gossip media gets too close, you gotta set up boundaries early.
Source: http://www.thehollywoodgossip.com/2011/06/mariah-carey-tweets-first-baby-pic/
Mary Philbin Cindy Pickett Mary Pickford Rosamund Pike Jada Pinkett Smith